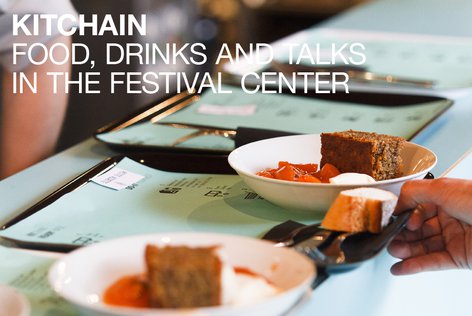 For food, drinks and casual talks before, in between or after shows we welcome you all with pleasure to the KITCHAIN festival centre.
Join our supercalifragilisticexpialidocious restaurant team conducted with enchanting power by Anke Van Espen. They mingle local and exotic ingredients into original and delicious dishes especially for you, and keep the world turning with their daily menu.
And some good news for the late night munchies... a variety of cold cuts will be available at the KITCHAIN bar after the last show.

RESTAURANT | 27.6 -5.7 (except Monday) 
18:00 - 22:00
For organizational reasons we do not take any reservations. (except for the Jazz Brunch)
KITCHAIN BAR  | 27.6 -5.7 (except Monday)
Friday & Saturday | 18:00 - 2:00
Tuesday, Wednesday, Thursday & Sunday | 18:00 - 1:00
Prolongation until 2:30 on the last festival night
BELLUBAR  | 27.6 -5.7 (except Monday)
Friday & Saturday | after the shows - 2:00
Tuesday, Wednesday, Thursday & Sunday | after the shows - 1:00
Prolongation until 2:30 on the last festival night